---
Wireless Internet Access for Education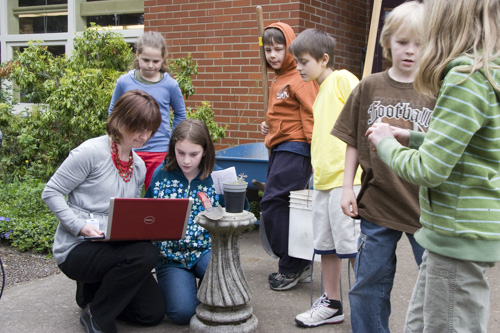 Many U.S. classrooms still lack Internet access; transient teachers and counselors often don't have reliable connectivity; and countless students are at a disadvantage because they don't have Internet access at home.
Who We Are, What We Do

SFL Broadband, a division of The Source for Learning, offers Internet access and the loan of mobile hotspots, at no or low cost, to administrators, teachers and students for educational purposes.

The Source for Learning, a non-profit learning and technologies company, holds Educational Broadband Service ("EBS") licenses in 22 communities across the U.S. The Federal Communications Commission ("FCC") has authorized SFL to use this frequency, or Internet access, in specific geographic areas.
SFL Broadband FAQs - Learn more about this educational initiative
---
We Help in Surprising Ways
SFL Broadband supports diverse communities of end users:
• Hundreds of teachers whose school or instructional settings lack dependable broadband access.

• Community service agencies whose teachers and counselors travel to support special needs students and their families.

• Individual students, through SFL Community Broadband's Students@Home program, an initiative that provides Internet access and mobile hotspots to students who lack connectivity at home. We work directly with teachers, schools, and even parent teacher organizations to identify, recruit, and support niche student user groups.

• A school district's home and hospital program whose 30+ therapists, counselors, and teachers are responsible for educating and supporting hundreds of children on extended medical leave from school.
---
The Difference We Make
Hear from our Participants about how they are benefiting from SFL Broadband's Internet access and mobile hotspots.


One of our teachers mentioned that having an SFL Broadband hotspot allowed her to connect with a middle school student who was not very trusting and found communication difficult.  The student opened up when they used the Internet together to access music the student was interested in. She became eager to share her explanations about the meaning of the songs, what they meant to her, and how they related to what was going on in her life.  This connectivity opened up an avenue to talk about those things that would not have been available otherwise.

Using my SFL Broadband hotspot has enabled me to prepare for class and serve students in one of our nation's poorest neighborhoods by working online from home, giving feedback on their Google docs, collaborating with peers, and designing a project-based curriculum. Thank you!

My SFL Broadband hotspot has helped my family and me out a lot this year. Before I had Wi-Fi, it was hard for me to do research papers and check my grades; but now I can do all those things. I've also used it for my Composition II research papers. Instead of rushing to get all my research done at school, I can take my time and do it at home. My little sister has also been using the internet to help her with her math facts.

I want to tell you about a special case where I am using my SFL Broadband hotspot. Recently, I was assigned to a young high school student with a newborn baby. She is involved in a program called Extended Parenting. Tutors go to the homes five hours a week to assist the young mothers and keep them on track to complete their semester requirements. Her address is within the broadband coverage area, and we have been using the hotspot for her research paper. She is an excellent student, and this program helpsprevent her from becoming a dropout statistic.
---
Let Us Help You Get Connected
First, you must live or work in one of the following communities:

Anderson/Muncie, IN
Atlanta, GA
Baltimore, MD
Bloomington, IN
Champaign, IL
Fort Worth, TX
Indianapolis, IN

Kansas City, MO
Miami, FL
Milwaukee, WI
New Orleans, LA
New York City, NY
Philadelphia, PA
Pittsburgh, PA

Portland, OR
Saginaw, MI
San Antonio, TX
St. Louis, MO
Tampa, FL
Washington, DC
---
You may qualify to participate in SFL Broadband if…
• You work for a school and need reliable Internet access where you teach, plan, or manage instruction.


• You encounter similar challenges working for a community service agency providing educational services for PreK-12 children.


• You are an early childhood educator whose facilities or work environment lacks adequate connectivity.


• You are a student (college/university or Students@Home participant) who could benefit from having mobile internet access in support of your education.


• You or your organization work with children whose participation in your programs is limited by their lack of Internet access at home.

Qualified applicants must agree...
• To use the mobile hotspot at least 20 hours per week for educational purposes


• To use the hotspot within your school's/employer's acceptable use policies


• To adequately safeguard the hotspot, as it is the property of SFL Broadband
---
Interested?
Complete this short interest form.
For more information, or if you have questions, please send an email to Amy Holt: aholt@sflinc.org 
---